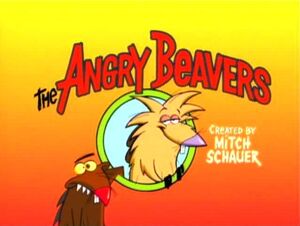 General Information
Title:

The Angry Beavers

Original Network:
Nickelodeon
Original Run:
April 19, 1997 - June 11, 2001
Episode Length:
30 minutes
Description:
The series revolves around Daggett and Norbert Beaver, two young beaver brothers who have left their home to become bachelors in the forest near the fictional Wayouttatown, Oregon.[1]
Main Characters:
Similar Series:
Availability:
DVD
iTunes
Paramount+
Content Information
Rating:
TV-G
TV-Y7 (some episodes)
TV-PG (some episodes, some airings)
Content Labels:
Violence:
Severe
Language:
Moderate
Sexual Themes and Nudity:
Moderate nudity (some episodes)
Drugs and Alcohol:
Crude Humor or Comic Mischief:
Mild
Background Information
Trivia
The opening credits was animated by Russell Calabrese, Doug Compton, Tony Cervone, and Spike Brandt.[note 1]
The opening credits used digital ink and paint since the first episode, despite the show being animated using traditional cel animation during its first two seasons and part of its third.[8]
The ending theme, confirmed by Mitch Schuaer in 2017 during a podcast interview, is a sped-up version of the 1961 song "Baby Elephant Walk", which was written by Henry Mancini. [9]
Norb and Dag's younger sisters, Stacy and Chelsea, are named after and voiced by Mitch Schauer's daughters.[10]
The word "spoot" is used to replace profanity in the series.[11]
This series was one of three shows Mitch Schauer helped pitched for Nickelodeon.[9]
Norb and Dag appeared in three video games: Nicktoons Racing (as playable characters), Nicktoons: Attack of the Toybots (as master models), and Nicktoons MLB (in the game's loading screens).
Notes
↑

Russell Calabrese "I animated the first third of the opening credits. Doug Compton animated the second third and Tony Cervone and Spike Brandt did the final third. Fun and funny!!!".
References
External links