Dag and Norb attend a football game that they later play in so that they can help their team.
Episode Summary
Dag and Norb are at a football game to cheer on Dag's favorite team, the Beavers. Unfortunately, the Beavers are losing by a landslide to the visiting team. Norb tells Dag that the Beavers haven't won a game in 23 seasons.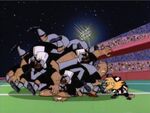 Dag takes the game very seriously, so he walks right into the game himself and ends up in a uniform as the quarter-back. Norb becomes the referee and starts making penalties against Dag for not having fun, taking the game too seriously, and arguing with the ref. Dag starts getting pummeled against the other team. Norb almost convinces Dag into just getting back in the stands and enjoying the game, until the other team starts threatening them and calling them "weasels" with one even squashing the brothers with his butt.
So, Dag and Norb work together to face the team using their beaver skills and the beaver car. They end up driving up into the stands and up into the football-shaped blimp. As the blimp falls, Dag and Norb end up guiding the giant football to the goal post where it pops and spews out many footballs that score them several touchdowns to win the game.
Background Information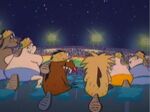 The beaver hat Dag as well as the Beavers fans wore during the football game looks similar to Norb.
After Dag and Norb scores two touchdowns for the Beavers, the team's band plays part of The Angry Beavers opening theme. It was played again at the end of the episode when the beaver car took the credit of winning the football game.
Production Information
Almost at the end on November 2016, this episode, along with "Gift Hoarse" aired during TeenNick's "The Splat" 25th anniversary marathon. (citation needed)
On December 2016, this episode, along with "Gift Hoarse", only aired on TeenNick's "The Splat" until Christmas Day.
Allusions
Errors
When the beavers crash into the football blimp, it makes a hole and deflates. But when it rolls onto the field, it appears to be fully inflated and without a hole.
Gallery
Cast