Dag learns the beaver defense and use his musk to mark everything that belongs to Norb and his brother is doing the thing with Dag's stuff.
Episode Summary
Background Information
Production Information
The sound effects from the musk sprayed by Norb and Dag is the same sound used on the Lens of Truth from The Legend of Zelda: Ocarina of Time.
Errors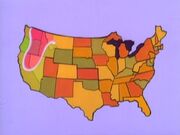 When Norbert and Daggett are spreading their musk across the country, their journey as shown on a map of the United States, begins in Washington when they usually live in Oregon.
Allusions
Cast